A Message From Our President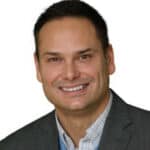 Outside of the industry, the topic of roofing technology and maintenance techniques is a bit dry. It's a wonderful bit of irony since roofs are designed to keep you exactly that: dry.
I've spent a quarter-century in the industry learning, growing collaborating with some of the best minds in the business.
I started RMS because of what I believe: now is the time for the Canadian industrial, commercial and institutional (ICI) industry to change and evolve.
The industry's environmental impact is outsized and incredibly harmful. With no viable recycling alternatives, the EPA estimates as much as 110 million tons of asphalt-based roofing waste is deposited in landfills annually — the equivalent of a million diesel train engines ending up in the trash.
This environmental impact could be massively reduced by taking simple steps to preserve and prolong your roof's lifespan, and that is what RMS was solely built for: regular, professional, preventative ICI maintenance. Our only objective is to prolong the life of your roof, not replace it.
We'll show our clients everything that is going on with their roofing asset, and educate them on the options available to help reduce those huge capital expenditures and lessen the amount of old, non-biodegradable roofing systems prematurely entering our landfill sites.
I have a passion for ICI sustainability solutions, better energy performance, and preventative maintenance regards to a lesser environmental and economic impact. The savings to clients — and our planet — could be staggering.
I take great pride in our company, which is built of a team of educated, trained and certified roofing technicians who focus on outstanding client service and customer satisfaction.
Our reports are easy to understand and comprehensive. Our photographic process shows the work and its progress. With a regular assessment of your roofing system, we can calculate your savings over time both environmentally and economically.
I value collaboration and sharing of ideas among like-minded individuals and groups. If you have ideas that uphold our mandate to support building owners or attract new workers of similar mindset to the commercial roof maintenance trade, please reach out.
Ernie Cecchetto
President, RMS
March 2021

Get in touch with us.
Looking forward to hearing from you…